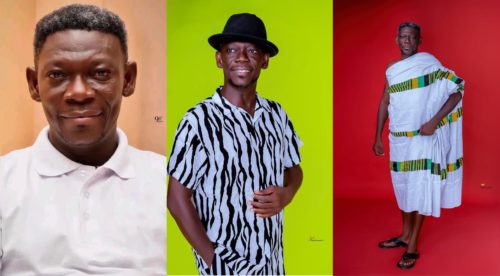 Biography of Kofi Adu aka Agya Koo
Kofi Adu (born May 25, 1969), a.k.a. Agya Koo, is an actor and comedian from Ghana.[1] He has appeared in over 200 Ghanaian movies including popular movies among Ghanaians such as Obaatanpa, Away Bus, Black Star and Ma Trick Wo.
Adu is originally from the Ashanti Region of Ghana, but lived in a suburb in Accra Newtown called Asantewaa. He worked as a cobra. Adu was discovered on a Ghanaian comedy show on GTV (Ghana National Television) at the National Theater in Accra, where he worked as a comedian warming up the crowd.
In July 2008, he was awarded a National Award by then-Ghanaian President John Agyekum Kufuor. Although he originally journeyed to Accra to sing, Agya Koo has been featured in over 90 Ghanaian movies, 15 of which remain his favorite.[2][3]
Avoiding the normal procedure of thoroughly reading a script before acting in films, he told Joy FM's former morning show host Kojo Oppong Nkrumah that while actors and actresses are typically given scripts two weeks before they begin shooting, his God-given talent allows him to improvise without a script.
Check out these photos below 👇