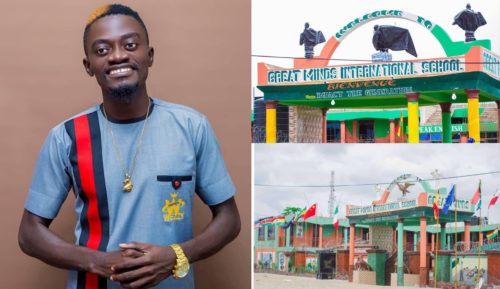 Famous Ghanaian actor Kwadwo Nkansah, also known as Lil Win, has shared that he charges a monthly boarding fee of GH¢ 200 at his Great Minds International School in Kumasi.
He talked about this on his YouTube channel, Kwadwo Nkansah TV, recently. Lil Win explained that he made this decision to help parents who struggle with the high cost of education.
Lil Win mentioned that many families find it difficult to afford a good education for their children because of expensive school fees. He introduced this new policy to provide a quality education that's affordable for smart students who come from families in need.
"Fees are so high in various schools and yet, they are not providing any quality education to reflect the huge monies they are taking.
"Some of these institutions are just taking advantage just because the school is situated in Kumasi. Some attend school in Kumasi yet they have nothing to show for while others attend school in a remote village yet have come far in life.
"My school, Great Minds is not in competition with any school so we are managing the school within our means. As you can see, the school is progressing with the second batch of Basic Education Certificate Examination (BECE) students graduating last Friday.
He expressed concern that some schools charge high fees but don't offer the expected quality of education. He believes some institutions take advantage of their location in Kumasi.
He shared that his school, Great Minds, isn't competing with other schools. They are managing the school based on their resources. The school is progressing well, with the second batch of Basic Education Certificate Examination (BECE) students graduating recently.
Lil Win acknowledged that one challenge they face is a shortage of buses for students' transportation. However, they are working on addressing this issue to make it easier for students to travel between different areas.