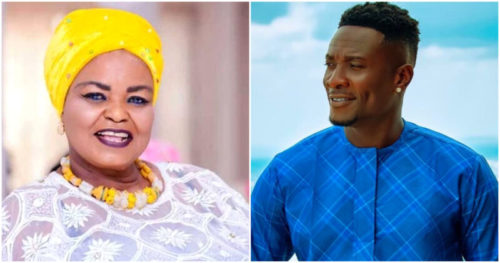 Veteran actress Aunty Bee has named the former Black Stars captain, Asamoah Gyan as the man of her dreams.
Aunty B of Efiawura fame used to be the wife of the late movie actor Bob Santo who died two decades ago. She has disclosed that she wants the footballer to fill the void her husband left.
During an interview on 'The Visdel Show', Aunty B disclosed that Asamoah Gyan is the man of her dream and wants to have a thing with him. She added that Asamoah Gyan is a 'highly endowed' man whom she will love to have as a partner despite their age difference.
"I can replace him with Santo as a man of my dreams…when he dances on the pitch, things will be knocking things. He is highly endowed and it brings me joy anytime he scores a goal. He is a good player and I love him," the actress disclosed.
She added: "I love our Black Stars footballers. I always pray for them but I have a love for Asamoah Gyan…the love is from my heart. My heart misses a beat anytime his name pops up."
https://www.instagram.com/reel/Cpf5WZUO5mD/?utm_source=ig_embed&ig_rid=6359c776-8a89-4b58-b4d4-6b06f658a203&ig_mid=5E271571-BCFB-4512-A065-71E1BBDDF8A6