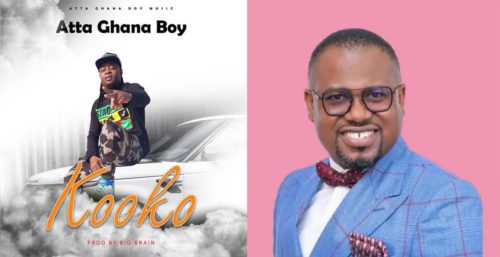 Ghanaian radio personality and tourism ambassador, Abeiku Santana, has recently endorsed a new song titled "Kooko" by Atta Ghana Boy, live on Okay 101.7 FM. The popular presenter, who has a huge following in Ghana and beyond, spoke highly of the new track and praised Atta Ghana Boy for his unique style.
During his show, Abeiku Santana played the song and encouraged his listeners to check it out. He described "Kooko" as a refreshing and catchy tune that showcases the talent of Atta Ghana Boy. Abeiku Santana also commended the artist for his efforts in promoting Ghanaian music to the world.
Atta Ghana Boy, who is known for his blend of highlife and afrobeat music, expressed his appreciation for the endorsement. He thanked Abeiku Santana and Okay 101.7 FM for their support and promised to continue creating music that represents the Ghanaian culture.
The release of "Kooko" has been met with positive reviews from music enthusiasts in Ghana and beyond. The song's upbeat rhythm, combined with Atta Ghana Boy's unique vocals, has made it a favorite among fans. It has also received airplay on various radio stations across the country, further cementing its status as a hit.
Abeiku Santana's endorsement of the song is significant, as he has a huge influence on the Ghanaian music scene. He has been instrumental in promoting various artists and has helped to elevate the profile of the Ghanaian music industry. His endorsement of "Kooko" is expected to further boost the popularity of the song and Atta Ghana Boy's career.
In conclusion, Atta Ghana Boy's new song "Kooko" has received a major endorsement from radio personality Abeiku Santana. The song has been praised for its catchy rhythm and unique style, and its popularity is expected to grow further following the endorsement. This is a significant milestone for Atta Ghana Boy's career and a testament to the vibrancy of the Ghanaian music industry.
Watch the video below