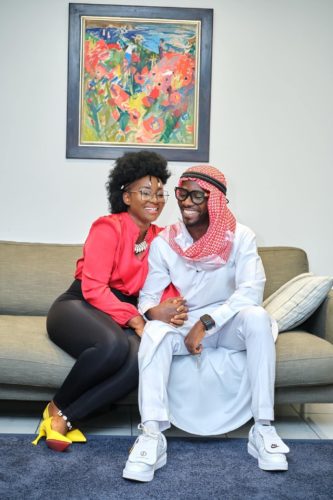 Ghanaian rapper, Okyeame Kwame, has revealed his parents were against marrying his wife Annica because of religion, however, they went ahead to tie the knot.
According to Okyeame Kwame, his wife of almost two decades, Annica worships as a Jehovah's Witness, and his parents were not in support of him bringing her home as a wife.
In an interview on Angel FM, the "Wo So" hitmaker explains that although his parents were against their union, they went ahead and made it official because that was what they both wanted.
"My never agreed to our marriage. We were going to play a show in Kumasi, we lived in Kumasi but we were playing a show in Accra, when we got to Nkawkaw, my wife, by then she was working in a law firm, was like, 'Okyeame, do you know that in Ghana we have three key elements in marriage? We have an ordinance, customary, Mohammedan, and another one I don't remember.
So the people who don't support our marriage, will they come and live with us?" Then I said 'No' right after that we went to register the marriage at KMA," he narrated.
Okyeame Kwame further explained that although both families loved each other, the religion aspect is what was keeping them from agreeing to the marriage.
'Both families loved each other but because of religion, they didn't agree," he stated.
Okyeame Kwame added that he told his mom "about the marriage a night before the ceremony because I understood that I was not going to marry the lady for my mother but for myself."
Since we won't live together, why would I marry a lady she wants and not what I want?" he quizzed.
When asked by one of the hosts if he didn't want his parents blessings, he responded saying;
"What will I do with her blessing? It's God who blesses us not humans. My mother who will leave soon will choose a lady for me and then die, then the girl will nisbehave towards me? Am I not a fool?" he retorted.
Okyeame Kwame states that you don't need the blessings of your parents when getting married . pic.twitter.com/Kx9epMKyY9

— SIKAOFFICIAL🦍 (@SIKAOFFICIAL1) October 17, 2023