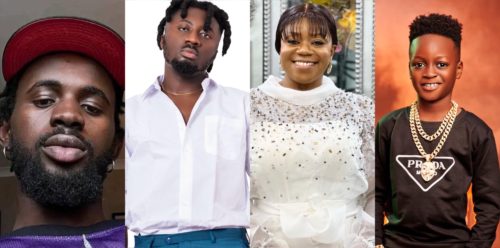 The winners of the 2023 Ghana Music Awards USA were announced at the Lincoln Theatre in Columbus, Ohio, at the weekend.
First presented in 2020, the initiative aims to recognize Ghanaian musicians based overseas, particularly in the US, while showcasing the country's music and culture worldwide.
Notable winners this year include reigning Vodafone Ghana Music Awards Artist of the Year Black Sherif, who took home the trophy for Hip Hop/Hiplife Artist of the Year, Camidoh, who emerged tops in the Afrobeats/Afropop Artist of the Year category, and Samini, who won the Reggae/Dancehall Artist of the Year Award.
Below is the list of the various categories :
Afropop Artist of the Year (US-based)
Praise Kusi
Jamin Beats
Myra Kay
K Rocks
Mr. Ampossible
TooWan8
Jay Hover
Female Artist of the Year (US-based)
Aakosya
Atiaa Tina
Cee Music
Millicent Yankey
Herty Corgie
Mill Addison
Male Vocalist of the Year (US-based)
Dreamz GH
Jay Baba
The Levite Fletcher Narh
Tony Amani
RevGraceMan
Edd Agyapong
Bishop Dr. Adom
Humphrey Tettey
Christian Gyamfi
Gospel Song of the Year
'Oma Ne Nsa So' – Mz Nana
'Aseda' – Melody Frempong
'Tumbero Bye Bye' – Rita Adomolga
'Lion of Juda' – RevGraceMan
'Open the Gates' – Need Worship
'Medimafo' – Cee Music
'Praise Him' – Millicent Yankey
'Nsu Mma Me' – Paappa Yawson
'El Shaddai' – Herty Corgie
Gospel Artist of the Year (US-based)
The Levite Fletcher Narh
Cee Music
Mill Addison
Millicent Yankey
Humphrey Tettey
Nii Addo
Piesie Esther
Herty Corgie
Ritaqueen
Reggae/Dancehall Artist of the Year
Epixode
Samini
Shatta Wale
Ras Kuuku
Stonebwoy
New Artist of the Year (US-based)
Eme B
Mz Nana
Mizter Okyere
Gifty Karie
Mimi Yeboah
Royal Mama
Ama Kutin
Paappa Yawson
Freddy
Kojo Black
Best Music Video of the Year (US-based)
Tumbero Bye Bye – Rita Adomolga
Pricey – Teephlow
Faith – Gifty Karie
Nsu ma me – Paappa Yawson
Yellow – Emperor T-Liga
Sika – FnF
Jolla – Melodyz
One Leg – Jay Hover
Aseda – Herty Corgie
Praise Him – Millicent Yankey
New Artist of the Year (US-based)
Eme B
Mz Nana
Mizter Okyere
Gifty Karie
Mimi Yeboah
Royal Mama
Ama Kutin
Paappa Yawson
Freddy
Kojo Black
New Artist of the Year (Ghana)
Malcolm Nuna
Chief One
Foto Copy
DJ Azonto
Abbi Ima
Prophet Atarah
Rapper of the Year
Amerado
Phrimpong
Lyrical Joe
Eno Barony
Strongman
Afrobeats/Afropop Artist of the Year
Camidoh
Kelvyn Boy
Gyakie
Wendy Shay
King Promise
KiDi
Urban Gospel Artist of the Year
Jonn Winner
Perez Music
Kofi Karikari
King's Kid
Hip Hop/Hiplife Artist of the Year
Amerado
Black Sherif
Strongman
Sarkodie
Eno Barony
Medikal
Highlife Artist of the Year (US-based)
Ateaa Tina
Official Ebo
Mr. Ampossible
Dreamz GH
Nee Oseye Adeleke
Hiplife/ Hip Hop Song of the Year (US-based)
'Solo' – Jay Baba ft. Ayesem
'Detti Water' – C Burn
'Eno Easy (Rmx)' – Nana NYC ft. Option
'Sika' – FnF
'M.I.A' – NKA ft. Jegasmoove & Andy. k
'Bebree' – TooWan8
'Nonstop' – Mani Mandela
'Vanity' – Mizter Okyere
Afropop Song of the Year (US-based)
'Kierra, Give it to Me' – Jamin Beats
'Catch a Vibe' – Efua ft. Sefa
'Way Out' – Waliy Abounararr ft. Zeal
'Confused' – Und Xray
'I Liike It' – K Rocks
'We Lit' – Mr Ampossible ft. Toowan8
'Jiga' – Emperor T
'Ba Tsoro' – KayBillz ft. Ras Kuuku
'One Leg' – Jay Hover
'Police' – Elizha
Hiplife/ Hip Hop Artist of the Year (US-based)
Jav Baba
Nana NYC
FnF
K Rocks
TooWan8
KayBillz
Best International Collaboration of the Year
Jay Baba – 'Solo' ft. Ayesem
Rita Adomolga – 'Tumbero Bye Bye' ft. Obaapa Christy
Mill Addison – 'Wo Ye' ft. Francis Amo
Mr Ampossible – 'End of Time' ft. Fali Finest
Queen Aveley-Jane – 'Hear Me Lord' ft. DDT
Paappa Yawson – 'Mmobroni Dua' ft. Obaapa Christy, Marka Anim Yirenkyi, and Great Ampong
KayBillz – 'Ba Tsoro' ft. Ras Kuuku
Herty Corgie – 'Yes Lord' ft. Akesse Brempong
Check out the winners below;