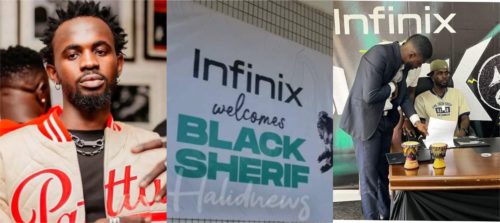 In a significant move that aligns music and technology, rising Ghanaian music sensation Black Sherif has been unveiled as the brand ambassador for Infinix Ghana. This exciting partnership marks a collaboration between one of the country's hottest musical talents and a leading player in the smartphone industry.
Known for his authentic and soul-stirring music, Black Sherif has swiftly risen to prominence in the Ghanaian music scene. With hits like "Second Sermon" and "Ade Akye," he has captivated audiences with his unique style and socially relevant lyrics. His ability to connect with the youth and address pertinent issues has garnered him a massive and dedicated fan base.
The decision to bring Black Sherif on board as the face of Infinix Ghana is a strategic move that reflects the brand's commitment to aligning with the pulse of the youth culture. As smartphones become integral to the lifestyles of the younger generation, Infinix aims to resonate with its target audience through the authentic and relatable voice of Black Sherif.
The synergy between Black Sherif's musical journey and Infinix's technological innovation creates a dynamic partnership. Both entities represent creativity, passion, and a commitment to pushing boundaries. Infinix's choice to collaborate with Black Sherif not only adds a charismatic and influential figure to their brand but also reinforces their dedication to staying in tune with the evolving trends and preferences of the youth.
As the buzz around Black Sherif's role as Infinix Ghana's brand ambassador reverberates, fans eagerly anticipate exclusive collaborations, special editions, and engaging initiatives that fuse music and technology. The partnership holds the promise of unique experiences for consumers who resonate with Black Sherif's artistry and the Infinix brand.
Infinix Ghana and Black Sherif's collaboration is poised to make waves not just in the realms of music and technology but also in shaping the cultural landscape, creating a powerful narrative that celebrates the vibrancy of Ghana's contemporary scene.