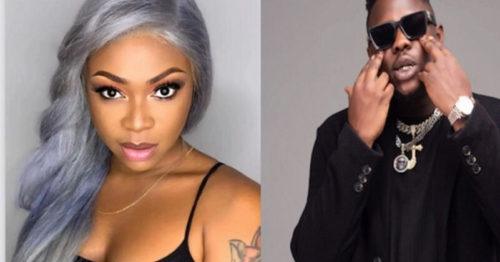 Shatta Michy has told Medikal to stop 'follow follow' (suggesting that he sheepishly follows Shatta Wale and expands his dirty works) after she confronted him over recent claims he made about her son.
Michy disputed Medikal's claim that Shatta Wale pays his son's tuition for the whole academic term; this claim has been severely refuted by Michy. On April 29, 2023, the two got into a fight at a blogger's party, as seen in a widely circulated video posted on Twitter.
When Medikal warned Michy to act appropriately while she was filming him, the two Ghanaian celebrities' conversation quickly changed direction, and Michy lashed out at Medikal with expletives.
A friend had to drag Medikal away when Michy insulted him and lost his temper. Michy repeatedly pressed Medikal to reveal the name of the bank account he said his friend Wale used to cover Majesty's (her and Wale's son) tuition.
In response, MDK clarified that when he said that Wale and not Majesty had covered his daughter Island Frimpong's tuition for an entire year, he was solely referring to her.
Shatta Michy corner Medikal for one side make he run🤣 pic.twitter.com/ltiZqoQFq8

— SIKAOFFICIAL🦍 (@SIKAOFFICIAL1) April 30, 2023