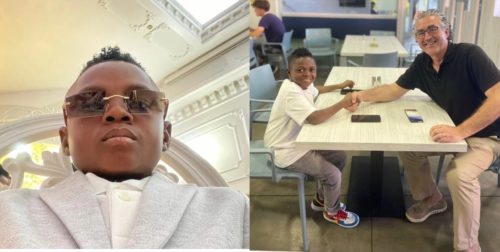 Ghanaian actor Yaw Dabo has finally spoken up about the age controversy surrounding him following his viral interview with Spanish media outlet Marca.
The actor, who recently returned from his European tour, during an appearance on Wontumi TV clarified the reasons behind his claim of being 24 years old.
"Yes, I am 24 years, that is my real age," he said.
Dabo explained that during his visit to Europe, he was on a mission to seek support for his football academy thus it was important he spoke the truth.
According to the football administrator, he initially hesitated when asked about his age during the interview with Marca but decided to maintain honesty, considering the preference of Westerners for truth and loyalty.
"When the question was asked it came as a shock to me so I was a bit hesitant but I came back to answer, I wanted to change my age but I reconsidered it because I was there to get help for my club." Dabo explained "Some of these foreigners believe in truth and loyalty so I just mentioned that I am 24 years. The interviewer then said, 'respect, respect', and from there, we continued with the interview."
The Ghanaian actor gained global attention after being interviewed in Spain following the UEFA Champions League semifinal first-leg game between Real Madrid and Manchester City.
During the interview with Marca, Dabo's enthusiastic support for Real Madrid caught the journalist's attention, leading to the question about his age. Dabo confidently stated that he is 24 years old.
"When I started delivering my thoughts, he was shocked and asked about my age because of the way I was expressing myself. That moment I realized I had to give my best. And of course, when you get the opportunity, you have to take it and I did that," he pointed out.
He further stated in another interview that his "viral video gave the Spanish media company the most views in 2023."
While the interview generated significant buzz, Dabo has now shed light on the circumstances surrounding his response.
Age controversies are not unique to Yaw Dabo, as several celebrities including footballers and politicians have faced similar scrutiny.
Notable amongst them is the president-elect of Nigeria, Alhaji Ahmed Bola Tinubu who has been accused of massaging his age to be able to contest the recently-held Nigerian elections.
However, the intensity of the speculation, in this case, is due to his stature and the fact that little is known about the actor's origins and personal life.