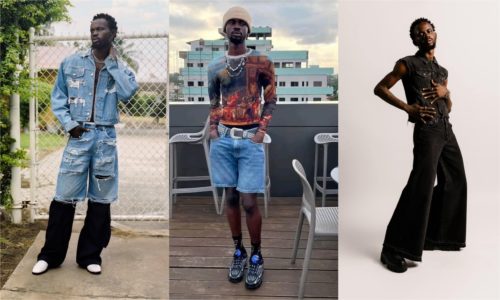 Ghana's hiplife sensation, Black Sherif, known for his distinctive style, has opened up about his fashion choices, unveiling a surprising source for his wardrobe – the vibrant second-hand clothing market, locally referred to as "Kanta" or "foose."
During an interview on Nana Ama McBrown's Onua Showtime, Black Sherif shared insights into his fashion journey, acknowledging his friends in Kantamanto, a bustling second-hand clothing market, for curating his unique outfits.
"I work with my boys in Kanta, my boys who sell clothes are in Kantamanto, and they make the best selection for me. My boys Kijo and Co," Black Sheriff revealed, highlighting the collaborative effort involved in selecting his outfits.
Expressing a preference for teamwork, Black Sherif drew a parallel to cinematic examples: "We think together. I love the teamwork. When you watch Avatar and the likes, you see how they work together. It's all about the style and being creative about all you wear."
Despite relying on second-hand fashion, Black Sherif teased a fashion deal with an Italian brand, scheduled for unveiling next year. This revelation showcases the growing recognition of his unique style, which typically includes signature elements like black boots, sun hats, denim-on-denim ensembles, a black bandana necktie, and beanie hats.
Black Sherif's Musical Journey
Beyond his fashion choices, Black Sherif delved into his musical journey, citing a passion for creating something extraordinary. "I used to listen to a lot of songs; my father introduced me to Reggae. When I got to high school, I also got into different genres. But I knew I could sing, but I didn't know I'd make a living of it until my friends pushed me out of my comfort zone," he shared.
This insight into Black Sherif's creative process and influences provides a glimpse into the multifaceted artist's world. With a reliance on collaborative efforts for his fashion and promising international fashion collaboration on the horizon, Black Sherif continues to make waves not only in the music industry but also in the realm of style and fashion.