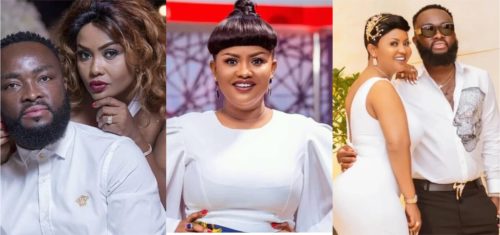 In the wake of recent swirling rumors and social media buzz surrounding the marriage of Ghanaian actress and TV personality Nana Ama McBrown, the air was cleared as she finally addressed the speculations about her relationship on Hitz FM, on Tuesday, October 31, 2023.
The rumors of an alleged rift in her marriage to Maxwell Mensah and the involvement of a supposed 'side chick' intensified across various social media platforms.
Reports suggested Maxwell's involvement with a woman named Serwaa, sparking numerous claims regarding the state of McBrown and Mensah's relationship.
The drama escalated when claims of Serwaa's connection to Maxwell, citing a past relationship with Ridwan, emerged. Ridwan, known for ending a ten-year relationship due to alleged infidelity involving McBrown's husband, stirred further speculation about Maxwell's fidelity.
As social media scrutiny intensified, observations of Maxwell and Serwaa's online interactions, following and liking each other's posts, fueled concerns and raised eyebrows among netizens. Allegations of their cohabitation further fueled the gossip mill.
According to circulating reports, McBrown and her husband had been living separately, purportedly due to the involvement of this 'other woman,' Serwaa, in their marriage. Efforts by family elders to resolve the alleged affair seemingly proved futile.
Amid the growing public discussion, a TikTok post regarding the emotional turmoil of a widow allegedly due to her husband's extramarital affair drew attention. This post, shared by McBrown on her Instagram story, raised assumptions about its relatability to her situation.
Additionally, McBrown's enigmatic caption "It is well" on a recent Instagram post further fueled speculation and prompted an outpouring of supportive messages from her followers, urging her to stay strong in the face of the alleged turmoil.
Contrary to the widespread assumptions and circulating rumors, McBrown and her husband, Maxwell were recently seen together all cozied up at the Canadian embassy while they move together in a happy mood.
After that earlier video, the screen goddess spoke out emphatically during her appearance on Hitz FM, asserting the strength and stability of her marriage. She stressed that the well-being of her marriage is the only focal point that truly matters.
Nana Ama McBrown's courageous stand and vocal affirmation regarding her marriage offer a powerful testament against the tide of rumors and social media buzz, emphasizing the importance of prioritizing the sanctity and strength of her relationship above all external noise.
https://fb.watch/o0Aci1qE79/?mibextid=cr9u03