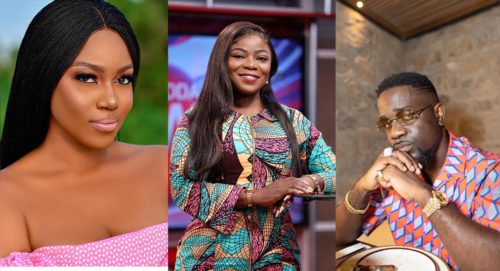 Popular Ghanaian media personality, Afia Pokuaa, otherwise known as Vim Lady, has talked about the issue involving Sarkodie and Yvonne Nelson.
A few weeks ago, Yvonne disclosed the abortion she had for the famous Ghanaian rapper in her memoir, 'I Am Not Yvonne Nelson'.
Following this, Sarkodie reacted by releasing a song titled 'Try Me'—and accused Yvonne of having affairs with other men when they were dating.
While the issue has become topical in the country, Afia in a post seen by odacitizen.com said both Sark and Yvonne forgive each other and move on.
She further mentioned how this issue could affect the families of Sarkodie and Yvonne Nelson.
However, the outspoken media personalities added that once they consented to have a raw s3x, they should agree to face all things that would come later.
Afia Pokuaa wrote on Facebook: "If two people of age agree to RAW S£X it means they've agreed to all the things that accompany it so why do we blame Sarkodie or Yvvoneone alone? Unless one person can prove being influenced to have raw s£x or s£x without a condom (duress)
The news trends alone can be traumatic for these two and their families, especially Yvvone's mom, Sarkodie's mom, wife and sisters. Both Sark and Yvvone need to give themselves GRACE and find forgiveness to move on past this."