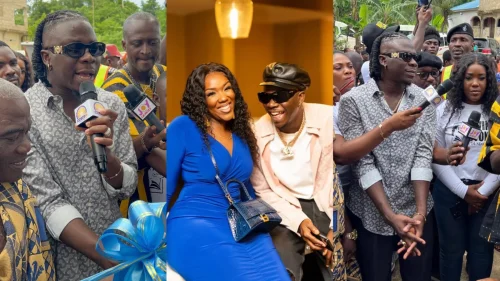 Popular Ghanaian reggae and dancehall artiste Stonebwoy's, known privately as Livingstone Etse Satekla, and his wife, Dr Louisa Satekla, led a team to commission boreholes to be built for a community in the Western Region.
The project forms part of the Livingstone Foundation's projects, which focuses on challenges that some communities face in accessing basic needs due to illegal mining activities.
In the video, which was shared on Instagram by blogger GhKwaku, Stonebwoy and his wife led their team to Daboase, a town in the Wassa East District in the Western Region.
The community is known for its inability to access good drinking water due to the issues of illegal mining, which has taken over the region, and Stonebwoy decided to effect a change through his foundation.
According to Stonebwoy's wife the project will not only help but educate Ghanaians on the negative impacts of illegal mining activities in many communities in the country.
The four mechanised borehole projects would be situated in four separate communities in the town to provide hygienic water sources for the communities.