The Odauhene, Daasebre Ofosu Kwabi Ayebiahwe, has reiterated that the three students namely Miss Lordina Opoku, Master Micheal Vicent Tetteh, and Miss Fein Elizabeth who excelled well in the just-ended annual Odau odwira festival will be sponsored by the Odauman Educational fund till they complete University.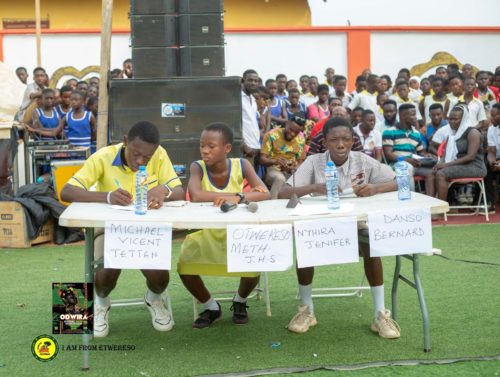 At the end of the quiz, Akyem Etwereso Methodist JHS were crowned as winners of the quiz while Akyem Etwereso Presby was placed second, Akyem Kwaboadi No. 2 JHS was third and Akyem Etwereso RC was fourth respectively.
All ten (10) schools took part in the competition.
The Odauhene speaking after the Odau Odwira festival quiz stated that after his installation as the Chief of Akyem Etwereso, he promised to bring Odau educational fund which will be sponsoring the brilliant but needy students in the Akyem Odau Traditional Area, and according to him, they will be starting with the three students who excel well in this year's Odau Odwira Quiz competition.
Every year students who will excel well in the quiz will be sponsored as well.
Daasebre Ofosu Kwabi Ayebiahwe said the educational fund will be launched on Saturday, 25th February 2023 as well as other projects.