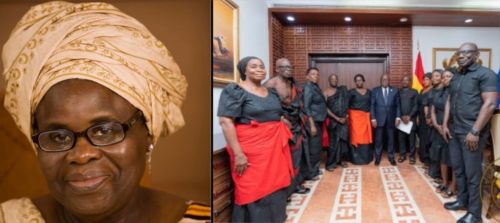 President Nana Addo Dankwa Akufo-Addo has conveyed his deepest condolences to the Ogyadze Asona Family of Abora Nkwanta and Abeadze Kyeakor following the passing of illustrious Ghanaian author, poet and playwright Professor Ama Ata Aidoo.
According to the president, Professor Ama Ata Aidoo "has brought a lot of honour to our country by her works, her personality and by the cause that she stood for."
As a result of her contribution to the literary culture and advocacy to the cause of Ghanaian and African women, governement has offered to give her a dignified and befitting State-assisted funeral.
The president made this known when the family of the late stateswoman called on the him today, Wednesday, 14 June 2023, to officially inform him of the passing and attendant funeral arrangements of the former Secretary for Education under the erstwhile PNDC administration of President Jerry John Rawlings.
The delegation, led by Ebusuapanyin Kwamena Essandoh Aidoo, disclosed that on the 13th of July 2023, she will be laid-in-state in Accra, and transported to her hometown, Abeadze Kyeakor, in the Mfantseman Municipality of the Central Region, the next day.
The final funeral rites and burial will be on the 15th of July, 2023, followed by the Thanksgiving Service at the Good Shepherd Methodist Church.
"I knew Ama Ata Aidoo quite well. We were contemporaries at the University. We met as young people when we were both at Legon and from that time, we maintained a reasonable relationship. I was one of her admirers. Outstanding writer, advocate for womens' cause and the cause of Africans; the progressive people around the world," President Akufo-Addo said.
Describing her as one of the most distinguished Ghanaians of our generation, the president solemnly stated that, the dates for her last passage rites, "will give the opportunity for myself and the people of Ghana, to pay our due respects and express our appreciation and gratitude for her life. A life strongly dedicated to the progress of Ghana."
Cc: classfmonline.com