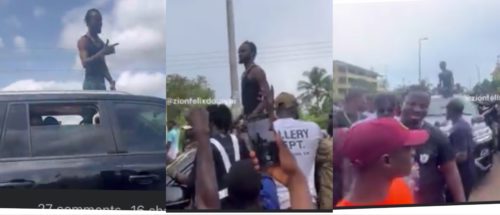 Ghanaian musician Black Sherif who recently won the VGMA Artiste Of The Year award has returned to his hometown of Konongo Zongo to a hero's welcome. The artiste, whose real name is Mohammed Ismail Sherif, was greeted with excitement and admiration as he visited his family and spent quality time with them.
Videos and pictures of Black Sherif's visit were shared widely on social media, capturing the heartwarming moments of the artiste driving through the streets of Konongo Zongo, greeted by a crowd of enthusiastic fans. The artiste smiled and waved at the crowd and greeted members of his community who had come out to show their love and support.
Black Sherif's visit to his hometown was an emotional moment for both the artiste and his fans. Many had followed his journey from his early days in Konongo Zongo, supporting him as he pursued his passion for music. The artiste's success has brought a sense of pride to the community, and they showed it in the most beautiful way possible as they welcomed him home. The young artiste has been making waves across the globe with his The Villian I Never Was album, with songs like Kwaku The Traveller becoming a massive hit and quickly becoming a fan favourite. His recent win as Artiste Of The Year at the VGMAs further cemented his place as one of the most exciting artists in Ghana currently.