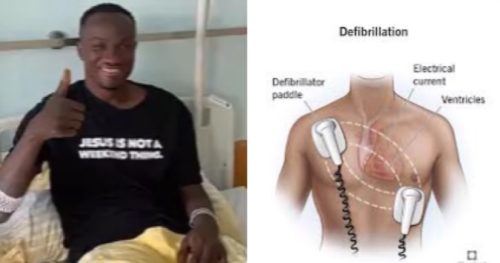 Raphael Dwamena's cardiologist has revealed that the player decided to have his defibrillator removed a year before he collapsed and died.
Dr. Antonio Asso said the Ghana striker would still have been alive if the defibrillator was still implanted in his heart.
He further disclosed that the defibrillator saved Dwamena's life in the past when he had malignant arrhythmia, insisting he even advised the player to quit football after that incident.
A defibrillator is a device that automatically pumps high-energy electric shock to the heart of persons experiencing cardiac arrest, which usually helps to save the life of the person.
He died as a result of a respectable personal decision. But if the defibrillator had not been explanted, Raphael would still be alive," Dr. Asso said, as quoted by the Daily Mail.
"We managed to convince him of the imperative need to implant a defibrillator to at least guarantee his life, at the same time that we advised against practicing professional sports."
The Spanish cardiologist added: "A couple of years ago they told me that the defibrillator had saved his life when he had a malignant arrhythmia that had been correctly treated automatically by the device. We had subsequently lost contact.
"From that moment on, I was aware that one day the tragedy that occurred on Saturday on a soccer field in Albania would happen."
Dwamena tragically passed away at the age of 28 while featuring in a game between FK Egnatia and Partizani on Saturday, November 11, 2023.
Play was stopped and the match was eventually suspended when Dwamena abruptly fell to the ground and fell unconscious.
His teammates quickly called for the medics to attend to him, but they were unable to resuscitate the former Red Bull Salzburg forward.
The Ghana striker has since been mourned by the football community, with his former clubs leading the tributes.