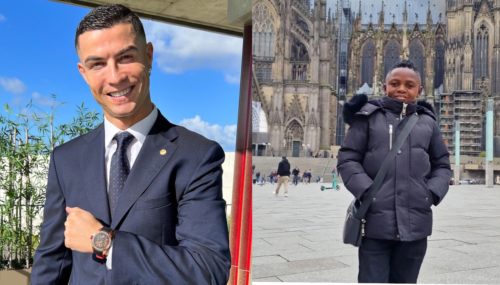 Samuel Yaw Dabo, a Ghanaian actor, has asked Cristiano Ronaldo to call him so that they could shake hands.
According to Yaw Dabo, the five-time World Best forward has been a big inspiration to him and many children who look up to him.
He added that his utmost desire is to meet the Real Madrid player in person and exchange pleasantries with him.
"Cristiano Ronaldo, maybe you hear my voice, you can call me," Yaw Dabo stated.
"I want to shake your hands because you are marvelous. God bless you. God give you more life," he added.
Yaw Dabo captured the hearts of Real Madrid fans in Spain after his viral post-match interview on Marca about the UEFA Champions League semi-final match between Real Madrid and Manchester City.
The Kumawood actor who owns the Dabo football academy, has been touring Europe as part of efforts to gain exposure and network with clubs abroad.
Dabo has been to France to meet with the officials of Paris Saint Germain, Borussia Dortmund in Germany as well as Ajax in the Netherlands.