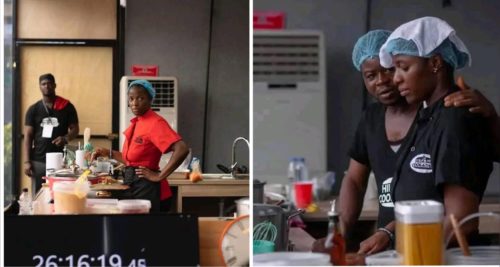 Guinness World Records has stated that they're reviewing evidence of Nigerian Chef, Hilda Baci's cook-a-thon in order to be able to verify her efforts as a new record holder very soon.
A Guinness World Records spokesperson said: "We are aware of the record attempt and are looking forward to receiving the evidence for our Records Management Team to review, before we can confirm the record is official."
Over the last few days, Hilda Baci, took on the challenge to break the Guinness World Record for the longest cooking marathon by an individual.
The 27-year-old Chef, took on the challenge on Thursday, May 11th, and cooked for 100 hours, breaking the previous record which is currently held by Lata Tondon (87 hours, 45 minutes).
Hilda explained she was taking on the challenge to highlight Nigerian cuisine.
She told CNN: "Nigerian cuisine is the best out there. The more recipes are propagated, the more people will be willing to try it. Nigerian food is such comfort food."
Meanwhile, fans of Hilda Baci worldwide, have kept their fingers crossed, waiting for Guinness World Records to make it official.