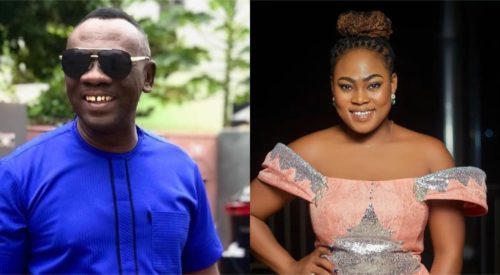 Gospel musician, Joyce Blessing, has disclosed that she nearly left Ghana for abroad to seek greener pastures at a time when she was in a predicament but it took the admonishment of Akwasi Boadi, popularly known as Akrobeto to change her mind.
According to her narration, actor and media personality, Akrobeto advised her to stay in Ghana because with the experience he had when he traveled compared to his stint in the country, he has benefitted more from staying.
The gospel musician indicated that she nurtured the idea of ditching her career to leave the country when she encountered dicey moments in her life when she was struggling to make ends meet.
Speaking in an interview with Okay FM, Joyce Blessing thanked Akrobeto for convincing her to stay in Ghana and continue her music career because it has helped her to become who she is today.
"I was not joking when I hinted at leaving the country. But since we are humans certain things will get to you. There was one person who sat me down and advised me against the idea of leaving the country.
"That person is Akrobeto, he told me to 'discard the idea of discontinuing my music career and leave the country for abroad. Because he once traveled and when he came to Ghana what God has done for him exceeds the opportunities he had abroad'. I don't know what he saw though but he convinced me to stay in Ghana," she said.
Joyce Blessing said this after the host of the program, Abeiku Santana asked her to explain why she stayed in the country after she hinted at leaving due to the hardship
She admitted that staying in Ghana has been beneficial to her considering the strides she has made in her music career.