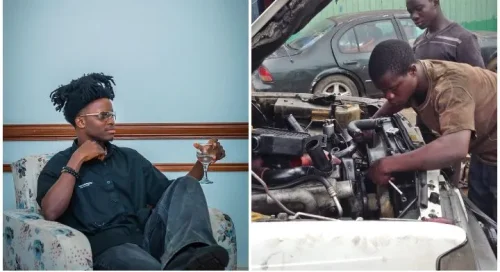 Ghanaian musician, Lasmid, has revealed that he used to be a mechanics apprentice before venturing into music.
The "Friday Night" hitmaker revealed this on Thursday 3rd August in an interview with 3FM, where he claimed he was under training as an apprentice for about 6 months before going into music.
"I was a mechanic, "Fita" apprentice (auto electronics) but I was unable to complete it. I was trained for a period between three to six months but I realized that my destiny was in music so I had to stop. The errands too were a lot," He stated.
Lasmid added he decided to learn the trade on his own because he was idle and needed to keep himself busy.
"I wasn't forced to learn the job but I wasn't willing to do so. It was more like I was at home doing nothing. No one forced me. After a lot of thinking, I realized I had done a lot of difficult tasks before so this was no different," he said.
Asked if he regrets leaving that particular trade, he said that he felt no regrets, as it was "worth it".