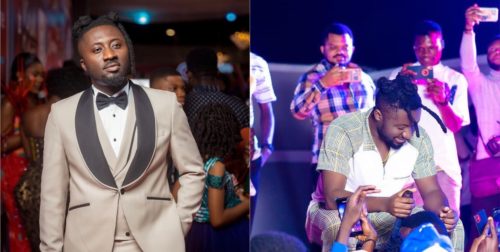 Amerado says he is struggling to even secure shows to perform, let alone think of filling the o2 Arena.
The popular Ghanaian rapper, who has chimed in on the ongoing conversations regarding Ghanaian artists performing in global arenas, emphasizes that his main focus is to feed and cater for his family, rather than aiming to fill the o2 Arena in London.
The rapper's statement follows days after notable Nigerian artist Asake made history by packing the 20,000-seat O2 Arena.
Asake's new feat triggered discussions about the absence of such achievements among Ghanaian musicians.
Despite this, the 'Abotr3' hitmaker believes that online critics and musical rivalry from Nigeria do not significantly influence his music journey or mindset.
He asserts that Ghanaian vocalists possess the potential to attain comparable triumphs, including filling vast venues like artists from other African nations.
Nonetheless, he acknowledges that this aspiration often seems remote due to the absence of internal backing that propels gifted artists to fame.
Speaking on UTV's United Showbiz Program on Saturday, August 26, 2023. Amerado said below;
"It's fine, I've watched Asake's O2 performance and the way he carried himself on stage. It's nice . What I can do is to just applaud him and continue work harder, strive for the best but I can't say Asake has filled O2, so Stonebwoy who is hosting shows and going on tours, Stonebwoy is not good. King Promise has the number 1 song on Boomplay, the whole Africa. Are we talking about it enough?"
He continued; 'I'm struggling to even secure shows to perform, let alone think about filling the O2 Arena. As an artiste, my top most priority is to feed my family and not to fill O2 Arena. Boys are hungry! We can't even get shows to perform. The shows that were organized in December, how many of them was I billed to perform for me to worry about O2?" he queried.
https://www.instagram.com/reel/CwbdFGKIt4e/?igshid=NTc4MTIwNjQ2YQ==
"In Ghana, even if we organize free shows, check the numbers and compare it with paid shows. They don't attend. When you host a show abroad, they would rather use the money to attend funeral or wedding because there will be free food, but the same Ghanaians will say a Nigerian has filled O2, so Amerado is not working hard because he is doing a video with his mom to promo his song. If I don't promo my song, how will I fend for myself?…Let's support ourselves. We should stay United and push ourselves to the top," he concluded.
The filling of the 02 Arena by Ghanaian artists have been an important debate since Asake sold out his show at the Arena.