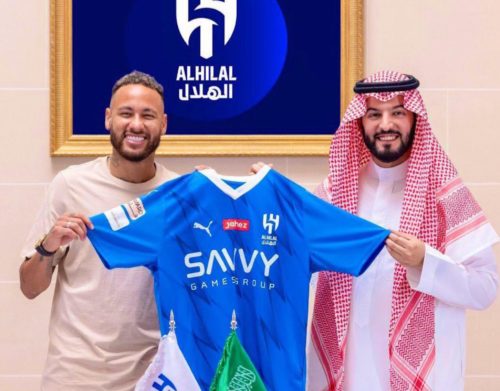 Neymar said he was relishing "new challenges and opportunities in new places" after he joined Saudi Arabia's Al-Hilal from Paris Saint-Germain on a two-year deal Tuesday, becoming the latest big name lured to the oil-rich Gulf state.
Brazil forward, 31, ends a six-year stay in the French capital and follows in the footsteps of Cristiano Ronaldo, Karim Benzema, and Sadio Mane in swapping Europe for the Middle East.
"I have achieved a lot in Europe and enjoyed special times, but I have always wanted to be a global player and test myself with new challenges and opportunities in new places," Neymar said in a statement from the Saudi Pro League.
"I want to write new sporting history, and the Saudi Pro League has tremendous energy and quality players at the moment," he added.
Al-Hilal is a giant club with fantastic fans, and it is the best in Asia. This gives me a feeling that it is the right decision for me at the right time with the right club. I love winning and scoring goals, and I plan to continue doing that in Saudi Arabia and with Al-Hilal."
Neymar joined PSG from Barcelona in 2017 for a world record fee of 222 million euros ($242 million), a few weeks before they recruited Kylian Mbappe.
The cost of Neymar's commitment to the team: a whopping €300 million for two years.
A breakdown of his salary:
💰 €4.80/second
💰 €288/minute
💰 €17,280/hour
💰 €414,720/day
💰 €2.9M/week
💰 €12M/month
The deal includes:
🛩 a private plane
🏠 a mansion with a staff
🏆 $87,000 bonus for every win
🇸🇦 $545,000 for every post or story promoting Saudi Arabia on social media
Neymar keeps on winning 😎