The renowned Wanderlust Ghana collective's vehicles, employed for their remarkable journey from Accra to London by land, are presently in transit back to Ghana, subsequent to the triumphant completion of the expedition by its members.
Among the vehicles utilized for the voyage, which was meticulously documented across various social media platforms, were two Toyota Landcruisers, a commanding Ford F-150 Raptor, an agile Lexus RX350 and Mercedez Benz G-Wagon (G63).
Minus the G-Wagon which ended the expedition in the Shengen area, the other four vehicles that ended the journey in the UK have been packed in containers on their way back to Ghana.
Just a few days ago, social media platforms buzzed with news regarding a group of enterprising Ghanaians who set forth on an audacious overland odyssey from Accra to London, using an array of automobiles as their mode of conveyance.
As accounts have it, this journey comprised a cohort of 13 intrepid participants, leaving the populace of Ghana engrossed in contemplation over the feasibility of embarking on such an ambitious venture themselves.
After a span of 16 days traversing roads and terrain, the participants triumphantly arrived in the city of London, eliciting admiration and applause from fellow Ghanaians for bringing international acclaim to their nation.
In a post on Facebook, the expeditionary group revealed that arrangements were in place for the vehicles to be shipped back to their origin in Ghana.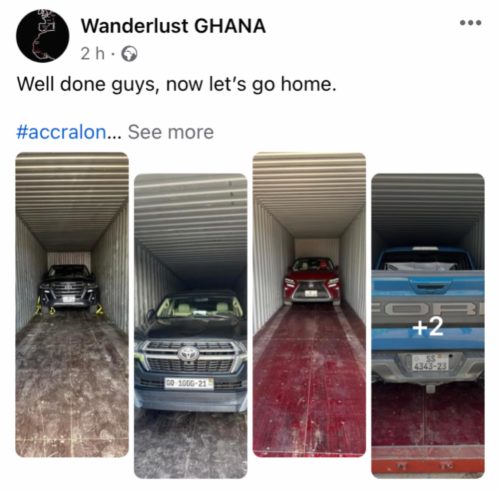 Accompanied by the caption, "Congratulations to the team! Homeward bound now. #AccratoLondonoverroad, #thejourneyisthedestination, #timetoeatfufuo," the post signified both achievement and anticipation of their return.