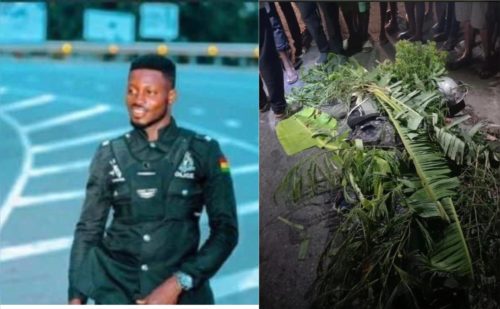 A police officer on Monday night met his untimely death at Pokuase in the Ga North Municipality of Accra.
The Dispatch Rider, identified as L/Cpl. Mustapha Mohammed, was said to be pursuing a Toyota Corolla vehicle on his motorbike from Ofankor.
Upon reaching Pokuase, the driver reportedly slowed for the officer to approach and then suddenly hit him causing him to fall under a moving truck which crushed him to death.
Unconfirmed reports have it that the late officer who was formerly with the Rovers Unit, was the dispatch rider assigned to Information Minister, Kojo Oppong Nkrumah.
According to Angel FM reporter, Mubarak Yakubu, the driver of the Toyota vehicle he was pursuing immediately sped off after the incident.
The reporter said the motorbike of the police officer was badly mangled while his helmet was also crushed by the truck, which caused him head injury leading to his death.
Details of the car which the late officer was pursuing, are not available at the time of filing this report.