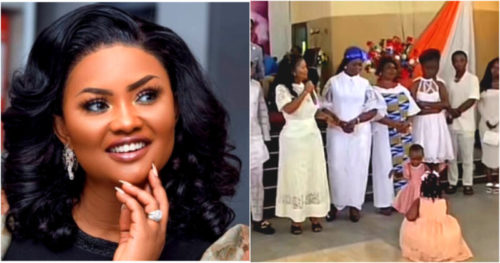 Media personality and actress Nana Ama McBrown has adopted a year-old baby who has lost her mother.
Nana Ama McBrown who is known for her kind heart spotted the little child who lost her mother happily wandering about in the church auditorium.
After discovering the little child had lost her mother to death, Nana Ama McBrown gave out some of her 4-year-old daughter Baby Maxin's used clothes and shoes which she has now outgrown to the little girl.
Nana Ama McBrown who got to know the child is an orphan decided not only to donate to the child but also to take full responsibility for her welfare from henceforth.
After further discussions with her husband and family of the little girl, the church leaders, McBrown was given the green light to take legal custody of the infant whose identity is yet to be made official.