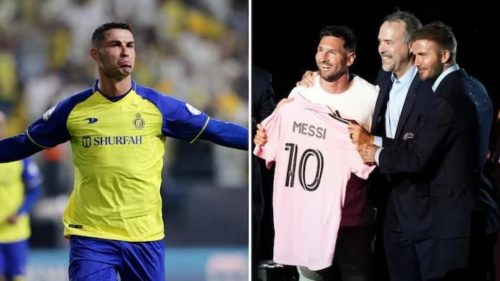 Cristiano Ronaldo has claimed that the 'Saudi Pro League is better than the MLS after Lionel Messi was unveiled by US side Inter Miami.
The Argentine was presented on Sunday during the unveiling ceremony after it was announced earlier this summer that he would be joining the Florida-based team in a £45million-per-year deal.
His arch-rival, Ronaldo moved to Saudi Arabia, joining Al-Nassr following his exit from Manchester United last season in a whopping £175million-per-year deal.
Many other players have now followed him out to the Middle Eastern country, including big names such as Karim Benzema, N'Golo Kante, Ruben Neves, Kalidou Koulibaly, Roberto Firmino, and many more.
The Portuguese star recently confirmed that he would be staying in Saudi Arabia next season, to deny rumours he was planning a return back to Europe.
Following a 5-0 pre-season friendly by Celta Vigo on Monday, Ronaldo gave a frank assessment of his future, claiming he will not be moving to the US or back to Europe.
'The Saudi league is better than the MLS,' he said, according to Fabrizio Romano.
'I'm 100 percent sure I won't return to any European club. I opened the way to the Saudi league and now all the players are coming here.
'I won't return to European football, the door is completely closed,' he added.
'I'm 38 years old, also European football has lost a lot of quality. The only league that for me has a lot of quality and is at a higher level than all the others is the Premier League.
'The Spanish league does not have that great quality. The Portuguese league is good, but it is not a top, top league. The German league I think has also lost a lot. I'm sure I won't play in Europe again. I want to play in Saudi Arabia.'
His club recently signed Marcelo Brozovic before a ban was implemented at the start of July.
'In one year, more and more top players will come to Saudi,' the Portuguese superstar continued. 'In a year the Saudi league will overtake the Turkish league and Dutch league.
'Players who arrived aren't like what the president of the European Union said. Jota and Neves are young players.'