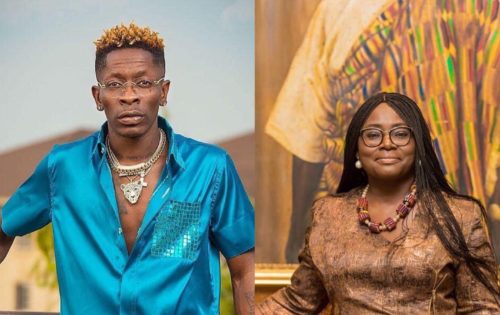 The Chief Executive of Charterhouse, organisers of the Vodafone Ghana Music Awards (VGMA), has revealed that her outfit is ready to have a conversation with musician Shatta Wale and his team about his return to the award scheme.
Speaking in a yet-to-be-aired interview on Joy FM, Theresa Ayoade noted that following the lifting of the ban placed on Shatta Wale and Stonebwoy, the latter's team responded to their call which led to a conversation on how they could work together for the growth of the industry.
However, Shatta Wale and his team have not made themselves available for any such conversations to be had despite their efforts to reach out, she said
"We are open to a conversation…We want to be as inclusive as possible…We are happy to sit around the table and have a decent conversation, which is what we did with Stonebwoy's team. We are happy to have a conversation but as decent as adults and mature people," Mrs Ayoade told the host Aisha Ibrahim.
This comes after Shatta Wale was missing once again in this year's VGMA despite the lifting of the 2019 ban placed on him and Stonebwy after a brawl ensued on the night.
But, despite their call for a truce, the Charterhouse CEO noted that as collaborators in the industry, they want to make sure their scheme is respected.
Mrs Ayoade explained that the scheme welcomes all opinions about the show and work to ensure it gets better, however, slandering and defaming the show is not appreciated adding it only destroys the work they put in so far.
"We just want to make sure that the scheme is respected. Whoever agrees to be part of the scheme, agrees to abide by the outcome of the scheme. Most importantly, just give it that respect because we give every musician the necessary respect. The industry must also give us that respect for what we do because we are collaborators in the industry," she said.
Meanwhile, Shatta Wale in an earlier interview on Hitz FM displaced his readiness to join the scheme should the organisers