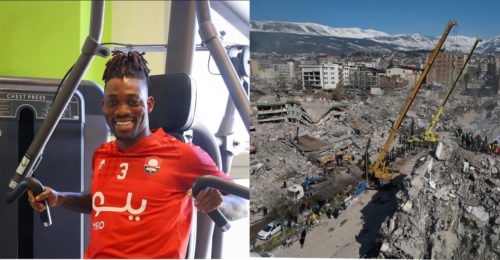 The hopes of many people around the world that Ghanaian footballer, Christian Atsu will be found alive following the earthquake that struck Turkey's south-eastern border 11 days ago has been dashed today, Saturday, February 18, 2023.
The Turkish agent of the player, Murat Uzun Mehmet has sadly confirmed that "Christian Atsu has been found dead"
This heartbreaking news has been reported on multiple online platforms in Turkey.
Also, Mubarak Wakaso, who happens to be the bosom friend of the 31-year-old forward for the Turkish side, Hatayspor has also taken to his numerous social media pages to confirm the news with a sorrowful tweet.
Rest well 💔😢😭

— M.M.JUNIOR WAKASO (@WakasoBobby) February 18, 2023
Earlier developments in this heartbreaking case…
His club Hatayspor initially reported he was rescued "with injuries" but a day later that position changed. Nana Sechere, who is in Hatay, said they located Atsu's "exact room location" and found pairs of his shoes.
The agent also said that thermal imaging cameras had shown signs of "up to five lives" beneath the rubble, but that it had not been possible to confirm those signs.
He added that "things are moving incredibly slow" and they "urgently need more resources, including a translator", adding that as a result "any rescues are being delayed, and lives are being lost."
And said it was "unfortunate" that Atsu's Turkish club was "not on the ground with us, side by side, in the search for Christian".
"Their position and influence, accompanied with their local knowledge, would be extremely helpful," he added.
Last week Atsu's partner Claire Rupio called for equipment to be sent to the collapsed building where he was living.
"It has been nine days since the earthquake and we still have not located Christian," Sechere tweeted on Tuesday.
"I am at the quake site in Hatay with Christian's family. The scenes are unimaginable and our hearts are broken for all the people affected."
Atsu was staying in a building with a number of Hatayspor teammates and officials. The club's sporting director Taner Savut is also missing.