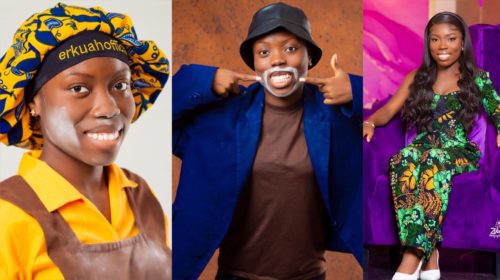 One of Ghana's most followed TikTok influencers Erkuah Official has opened the eyes of many Ghanaians to the lucrativeness of the social media app.
As confessed by Erkuah Official during an interview with Berla Mundi on TV3, she sometimes makes up to 5,000 cedis in a single day from the gifts she receives from her followers during her live sessions.
In a good week also, she can earn as much as Ghc 20,000 – Which is even more than 90% of the annual salary of most Ghanaians
She further revealed that some of her colleagues pocket as huge as 10,000 cedis in a single day during their lives sessions.
Erkuah Official spoke about the time before she joined TikTok. She disclosed that she could barely afford to take care of herself, revealing that she couldn't buy herself a wig and owned only two pairs of shoes.
"This is how we make our money. When people like brands come to us, and they want us to advertise something for them, I charge you and make a video for you. Song promotions. And we also make money through live streams."
Watch the video below to know more…
Cc: Zionfelix.net