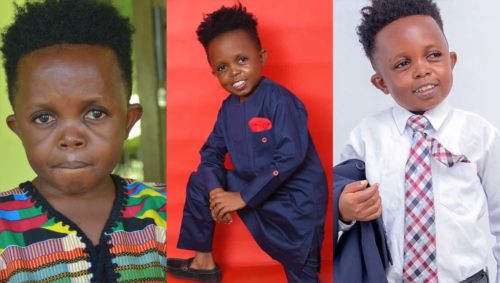 Famed Ghanaian diminutive actor, Don Little, has confessed that he never imagined being this successful because of his diminutive stature.
In an interview with popular actress, Emelia Brobbey on her Okukuseku show, Don Little said although he had the support of loved ones, he always had it at the back of his mind that people would make fun of him.
He recounted how he almost gave up on his acting career a few years ago because no director was ready to cast him as a lad role in any movie.
All hope, he said, was lost so he gave up and enrolled in a computer school. After that, he sold call cards as well to survive.
"One of my friends called Major introduced me to acting. One day, he asked me to escort him somewhere and not knowing, he was taking me to a production house. I was shocked but I partook in the movie. It wasn't bad but because of the shyness, I couldn't give my best".
"It wasn't easy,"
"I met one director in Kumasi and he was into YouTube so we shot some videos but during that era, YouTube wasn't popular as compared to this time so it wasn't also helping. I gave up and enrolled in a computer school. After completing the computer programme I was doing, I sold airtime for some time",
"I joined some members of my Church to Atwea mountain to seek God's face. Through that, I met with a pastor who told me about Ghana's comedian, Funny Face. So after the prayers, I met and told him my plight."
Although his first encounter with Funny Face was rough, Little said the comedian reached to him again; they shot a video and that was it.
He went ahead to mention some benefits he has gained when he started acting stating that "people have really helped me especially when it comes to travelling. People give me free tickets to travel."
The Kumawwod actor emphasized on the need for people to treat people of his size with respect because everyone is the same.
"The fact that our stature is different does not mean you should disrespect and see us as children," he noted.
Don Little who seemed happy about how far he has come in his career boasted that his name will be part of the list of good actors in Ghana.